Welcome to Clavister's
Golden E10 promotion
CONTEST PERIOD:
The Golden E10 promotion period runs from
November 1, 2018 to February 1, 2019.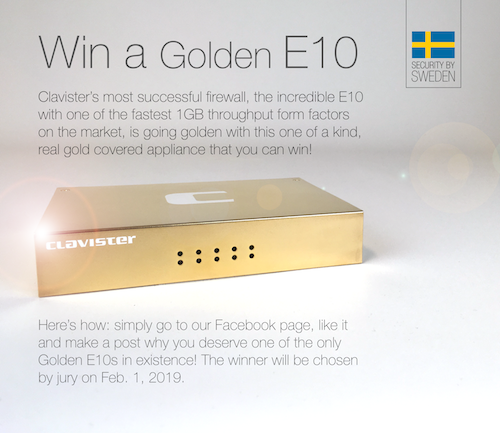 Please note the following rules and conditions.

2. ELIGIBILITY: A contest is open to all social media users of Clavister's Facebook, Twitter and Linkedin sites worldwide, who are at least eighteen (18) years of age or older as of the first day of the contest period. Notwithstanding the above, the contest is not open to individuals associated with the contest, including the employees, agents or representatives of Clavister (including its respective divisions, subsidiaries, affiliates and advertising or promotional agencies) and suppliers providing prizes or other materials or services in connection with this contest (collectively, the "Excluded Individuals"). This contest is also not open to the immediate family members of the Excluded Individuals, and all other persons with whom the Excluded Individuals reside, and previous prize winners (including anyone from winner's household) who have won a prize preceding thirty (30) day period prior to the commencement of another contest on the firm.

3. HOW TO ENTER: To enter for a chance to win a contest, follow the instructions given on the social media posts that Clavister will be putting up on a bi-weekly basis.
Like or follow one of Clavister's social media pages worldwide
NORDICS: Facebook Sweden: https://www.facebook.com/clavistersverige/
GLOBAL SALES SUPPORT & ASIA: Facebook International: https://www.facebook.com/clavister; Linkedin: https://www.linkedin.com/company/clavister-ab/; Facebook France: https://www.facebook.com/clavisterinfrench/; Twitter: https://twitter.com/Clavister; Twitter Benelux: @ClavisterBNL
DACH Facebook Germany: https://www.facebook.com/ClavisterGER/; Twitter: @ClavisterGER

4. NO PURCHASE NECESSARY: No purchase is required to enter a Clavister Contest.

5. PRIZES: Four working E10 firewall devices, painted in 24 karat gold paint, are offered to each market—DACH, NORDICS, ASIA and GSS (NORDICS: Sweden, Norway, Denmark, Finland, Iceland; DACH: Germany, Austria, Czech Republic, Slovakia and Switzerland; Asia: China, Japan, SEA; GSS: The rest of the world). Potential winners will be required to furnish proof of identification such as a driver's license or other photo identification. Prizes that have not been picked up with 30 days of winning are forfeited. There are no prize substitutions. Prizes cannot be sold, transferred or exchanged for cash. Some prizes have restrictions or expiry dates. All decisions made by Clavister are final.

6. PUBLICITY: By entering the contest, you consent to Clavister's use of your name, city of residence, photograph, voice, statement and image for any publicity purposes and social media details.

7. DECISIONS ARE FINAL: In the event of a conflict between the rules and any instructions or interpretation of these rules regarding a contest, these rules shall prevail.

8. CHEATING WILL AMOUNT TO AN AUTOMATIC DISQUALIFICATION: Any attempt to tamper with the entry process, interfere with these contest rules, deliberately damage any website or undermine the administration, security or legitimate operation of the contest, is a violation of criminal and civil laws, and Clavister reserves the right to seek damages and/or other relief from all persons responsible for such acts to the fullest extent permitted by law, which may include banning or disqualifying entrants from this and future Clavister contests.

9. TECHNOLOGY MISHAPS: Clavister assumes no responsibility for: entries lost, stolen, late, delayed, damaged, illegible, incomplete, or for the failure, interruption or delay of any email or other communication to be received, for any reason; problems with the function of any website or website feature howsoever caused; the malfunction of, or damage caused to, any telephone network or lines, computer equipment, data or software, online systems, servers or access providers; any functionality lost due to not having cookies enabled; traffic congestion on the Internet or on phone lines; the security or privacy of information transmitted via computer networks; or for breaches of privacy due to interference by third party computer "hackers."

10. CONTEST PERIOD: Clavister reserves the right, at its sole discretion and without prior notice, to amend, cancel, close, suspend or reinstate a contest at any time and for any reason whatsoever. Clavister reserves the right, in their sole discretion, to cancel or substitute any component of a prize for its cash value or a prize of approximately the same retail value. Prizes are non-transferable, must be accepted as awarded by Clavister and cannot be exchanged by a declared winner for cash or other substitutes.

11. AGREEMENT OF CONTEST TERMS: By entering the contest, each entrant agrees to abide by these contest rules, which are subject to change without notice to contest entrants individually, and each entrant releases Clavister, its parent, affiliates, subsidiaries, directors, officers, employees, representatives, agents and advertising and promotional agencies, from any damage, loss or liability suffered as a result of or arising from the entrant's participation in a contest or the use of any prize.

13. LEGALITY: The contest is void where prohibited by law and is subject to all applicable federal, provincial and municipal laws and regulations.

14. PERSONAL INFORMATION: Personal information collected from entrants will be used by Clavister only for the purpose of administering the contest. By entering a contest, entrant consents to the manner of collection, use and the disclosure of personal information.