Secure, user friendly and cost effective authentication
Simple combinations of username and passwords are one of the major reasons for larger security incidents and breaches, a situation that can no longer be trusted for protection of business applications and sensitive data.

Claviser EasyAccess with Multi Factor Authentication (MFA) provides the strength of security needed to protect your environment against these issues. By leveraging something the user already has, knows and can answer, our MFA solution enables a seamless and cost effective solution to authenticate users.

At the heart of your strong authentication solution is our Multi Factor Authentication Server, the beefiest bouncer around, keeping cyber criminals at bay and out of your network. The MFA Server communicates with Clavister Next Generation Firewalls, your user directories and keeps track of all the One Time Passwords. The server is designed for rapid installation and requires minimal administration to offer great protection for your company.


Experienced provider of secure identity solutions
Clavister's portfolio of Identity and Access Management solutions, including the Multi Factor Authentication products comes with a long history and proven track record. The products are the result of an experienced team working in the forefront of secure identity and access management technologies for almost twenty years.
Mobile Authentication Apps
It's common knowledge that passwords aren't strong enough to protect company data. Multi Factor Authentication (MFA) provides the strength of security needed to protect your environment. By leveraging something the user already has, our MFA enables a seamless and cost effective solution to provide strong authentication.
To make authentication easy and smooth for the users we offer multiple ways of providing a strong factor of authentication using your smartphone.




Simple setup

Once you have initiated the setup, a "camera window" will appear. Scan the QR code on your screen and you are done.





Free of charge

The mobile app is free to download and does not cost anything to use, it doesn't get any better than that.





Easy to use

Using the apps is super simple. Once it's running it'll generate a new OTP every 30 seconds.





Optional re-branding

The apps can be re-branded with your company profile. This is a great marketing opportunity especially if you are a service provider.
---
Free Download
---
Offline Mode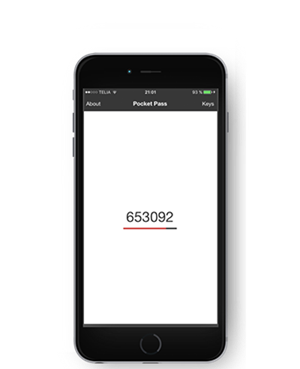 Our mobile apps for offline One Time Password generation, Clavister Authenticator and Pocket Pass, work on both Apple and Android phones.
The best thing, it's super simple to use. It's so easy to use that it actually doesn't require the user to do anything. Once you start the app, it generates a new One Time Password (OTP) every 30 seconds. Even setting it up to use is easy.
Just initiate the setup and point it towards the QR code on your screen; it's ready to go. The mobile apps are free to download from Apple App Store and Google Play, and even better, there are no transactions costs.
Online Mode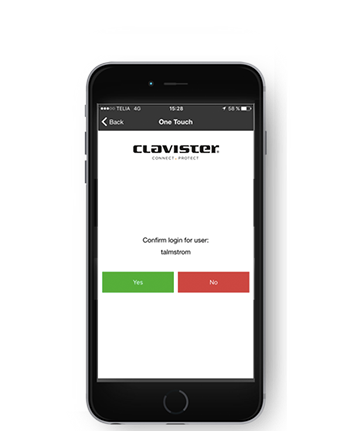 The One Touch mobile app adds security and simplicity to your organization and employees. With the One Touch app, a user will receive a notification on their device prompting for interaction.
The user will approve or deny the authentication request by simply answer "Yes" or "No".
Push notification alerts will only be sent to previously activated devices. If the user have enrolled for multiple devices e.g. mobile and iPad, the notification will be sent to all devices. The enrollment process installs a certificate on the device that is used for the authentication request. This does not require one-time password, a simple "Yes" and you are logged in! If someone tries to login the user will be prompted with a login details; current time and name of application.
Message Service:
One Time Passwords, for everyone, anywhere
The SMS service works on a bundle package: a far lower cost alternative to creating hard token system implementation and much easier to use. Even better, since everyone has their phone device with them, there's no risk of not having the hardware dongle with you. And with SMS working on all devices—feature phones as well as smart—the SMS option might be right for your needs.
Design and Highlights
Deploy and enjoy

The SMS option is the easiest way to deploy Clavister MFA and deliver One Time Passwords as it doesn't require the user to download anything. A simple SMS code comes into the device and they use that. Dead easy.



Guest are welcome to drop by any time

The SMS service is a great choice when you want to invite your vendors, customers or consultants to your network. Simply add their number and stop worrying about uninvited guests making an entrance.



Works for everyone, everywhere on any phone

While the Clavister Authenticator is an excellent solution, it requires a smart phone to operate. Many regions have a mix of feature and smart phones. For users with feature phones, the SMS option is the best solution to create strong authentication SOP.

Flexible, Versatile and Easy to Use

Flexible and Versatile
Customize according to your needs or just configure one of the many features included in the product.
Self Service

With self-service users can easily activate themselves for multi-factor authentication. This will also lower cost for your organization. Web-based tool included in product.

Clavister EasyAccess Admin
With Clavister EasyAccess Admin a service desk personnel can help users with multi-factor authentication related issues. Web-based tool included in product.
Several multi-factor authentication delivery included


Product includes multiple and flexible multi-factor authentication delivery methods such as SMS, email, mobile and hardware tokens, x.509 certificates etc. for your users to prove their identity.
Standard protocols supported


Please click the following link for the different standard protocols that are supported.

High ROI with Low TCO

Migrate from existing solution
Migration support from legacy hard tokens solutions like McAfee OTP Server or RSA solutions.
Quick activation for MFA
Activate users for MFA with easy-to-use web tools available both as self-service or as delegated administration.
High availability
Redundant and scalable for high availability.
Software token
Lowers TCO compared to Hardware Token solutions.
Product include: PhenixID Pocket Pass.
Quick deploy
Integrates easily into your existing environment and has full support for most remote access solutions. With a very quick deployment you will be up and running within hours.

Integrates with RADIUS, HTTP and SAML

We can act as a RADIUS server


Since Clavister EasyAccess can act as a RADIUS server we can easily integrate with most VPN and RADIUS-aware applications.
For example: Juniper, Cisco, Citrix Access Gateway (NetScaler), Citrix Web Interface, Microsoft UAG, Microsoft Outlook Web Access (OWA), Microsoft Sharepoint , Microsoft Remote Desktop Web, VMware View, Clavister, Check Point.
RADIUS challenge/response
VPN/RADIUS application should support RADIUS challenge/response standard for the best integration.

Authentication Methods


Username + Password



Supports user store based on LDAP, SQL database, Web Services and many more.
Clavister OneTouch
Read more about Clavister OneTouch here.
Swedish BankID
Read more about BankID here.

Swedish SITHS
Read more about SITHS here.
X.509 certificates
PhenixID MFA supports authentication with certificates based on X.509 standard.
SAML SP
Consume authentication from external authentication provider.

Integrated Windows Authentication (IWA)
Use Windows client authentication.

One-Time Password (OTP) methods

PhenixID Pocket Pass


Generate an offline OTP through the PhenixID Mobile App without the need for an internet connection or network coverage. Perfect for when you're traveling or at locations where SMS coverage is not available.
For more information, please read here.
Software based OATH-tokens


Support for any OATH-based application, for example Google Authenticator, Microsoft Authenticator.
SMS or Voice
Send OTP via SMS (text message) or get it read via voice to the telephone.
Mail
Send OTP via mail
Prefetch/Temporary
Print or get a number of otp in advance. Great if you lost or forgot your token device.
Yubico
Read more about Yubico here.
Hardware based OATH-tokens
Hardware token devices.
Highlights
Scalable Licensing
Our licensing and business model that is based on number of users, which means it scales seamlessly with the size of your organization.
Quick Deployment
The MFA server is incredibly easy to install. In fact, most customers can be up and running with strong authentication within an hour.
Robust and Reliable
Redundant and scalable for high availability.
Smart Integration
Clavister MFA is perfectly integrated with the Claviter Next Generation Firewalls, especially when using the One Touch application as a software token.
Clavister Protects Webinar
See our recorded webinar session that gives you an overview of the
Clavister Easy products and how they will help protect your digital identity.