THE PROBLEM
As laptop devices move outside your secure perimeter they will become exposed while being connected to other open networks. While being away, these laptops risk becoming infected—and in the worst scenario this stays undetected until the laptop returns to the corporate network again. The virus or malware will have unrestricted access to the internal environment creating a very undesirable and risky situation.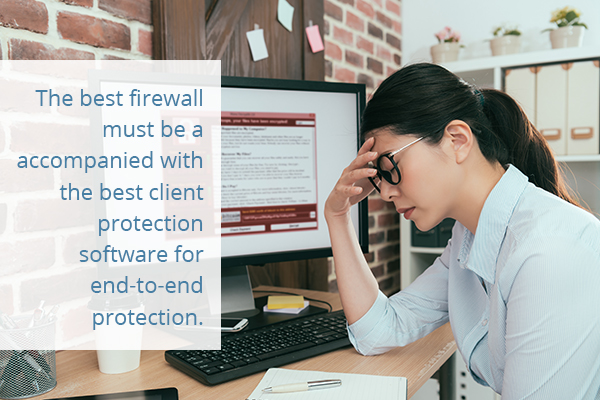 SOLVING THE PROBLEM
Clavister's Endpoint Security Client is based on industry leader Bitdefender who provides artificial intelligence and behavior detection software together with signature databases to detect viruses and malware. The software also has built-in data leakage prevention (DLP) ensuring GDPR policy compliance and that sensitive data does not get compromised. The solution is cloud managed, easy to deploy and proven in major independent tests year over year to be the best performing solution on the market.
CLOUD BASED MANAGEMENT
Manage all your endpoint security clients from a central and cloud based console.
CONTROL YOUR DATA
Control your data and avoid information leakage/theft.
STOP RANSOMWARE
Stop ransomwares from encrypting your valuable files using new and highly sophisticated technologies, including 4th Generation Artificial Intelligence.
ADVANCED ZERO-DAY PROTECTION
The unprecedented rise of new threats has deemed traditional security mechanisms both ineffective and unreliable in providing adequate defense.
THE RESULT
Increase security levels on-net and off-net to avoid malicious code to enter your network.
Best in class endpoint
protection
Virus and malware detection
and data theft prevention
"Enterprises spend more than $4 billion every year on endpoint security solutions, but are still losing ground to cybercriminals"
Products
The following Clavister products are capable of providing this use case.
Solutions & Customers
The following solutions and customers benefit from this use-case:
SOLUTION
End-user Protection
Securing the user from the network and on the device itself
SOLUTION
Protection of Legacy Systems
Protecting non-updateable industrial systems running older Linux or Windows OS
SOLUTION
Empower Remote Working
Full device protection against threats and data loss for secure remote connections