Business Continuity from the North of Sweden
The Aurora Borealis—a unique phenomenon of curtains of light in the Northern night sky, signaling strength and security. A perfect symbol for our cybersecurity portfolio, a set of interlinked products that together provide business continuity.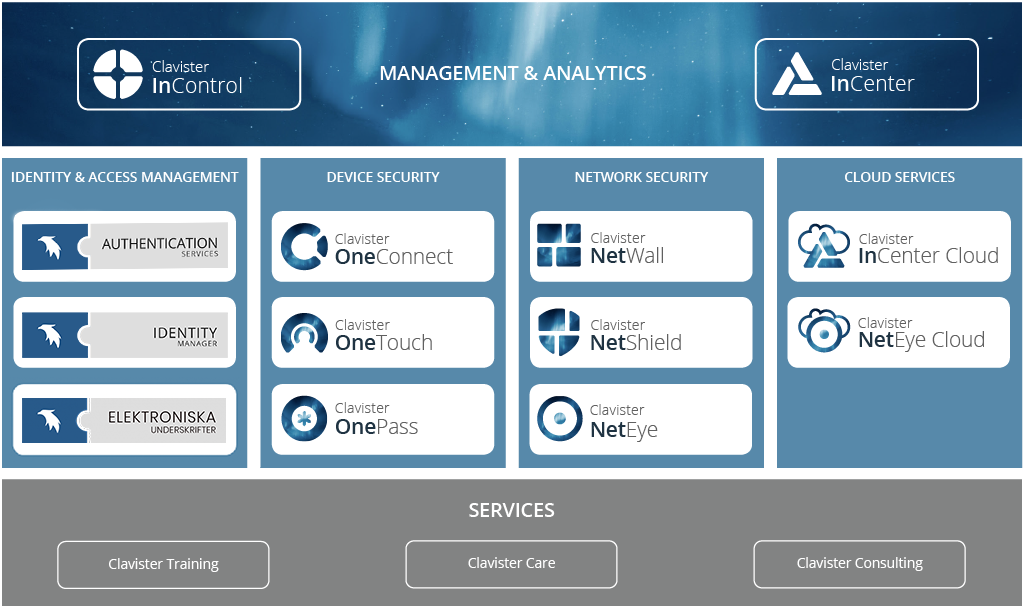 Clavister InCenter serves as the foundation for the Clavister Aurora Security Framework providing holistic management and analytics for all products in the portfolio. It acts as the central point of intelligence providing a simplified analytical views that enable real-time actions to improve security. As a cloud-based service it enables the Security Operations Center with key insights that allow impactful actions to dramatically improve security and the user experience. Clavister InControl provides automated provisioning with zero-touch as a perfect solution for MSSPs and others needing to deploy remote devices cost effectively.

Clavister InCenter maximizes the synergy our product areas: Identity & Access Management, Device Security, Network Security and Cloud Services. These areas empower a large set of use-cases categorized under Connect, Protect and Prevent. The Identity & Access Management portfolio is provide by sister company PhenixID and provides integration points with Aurora for Authentication and Analytics.

Clavister Aurora Security Framework enables business to connect their locations to each other and to the Internet with focus on security and reliability. It enables inspecting of traffic and behavior of traffic for threats in order to protect your digital assets. And enables preventative security measures empowering policies that can reduce the risk of users making mistakes to threaten or compromise the digital perimeter of your business. Orchestrated and automated the use cases work together with the focus to provide you with business continuity.

NEXT-GENERATION FIREWALLS

Clavister

Net

Wall

Security products designed for your challenges with the cloud, a mobile work force, BYOD and skilled cyber criminals and puts you in control.
SERVICES-BASED FIREWALLS

Clavister

Net

Shield

Clavisters NetShield is managable with a single tool with features such as Global Policies and Zero Touch deployment.


PhenixID

Authentication Services
Simple combinations of username and passwords are one of the major reasons for larger security incidents and breaches, a situation that can no longer be trusted for protection of business applications and sensitive data.

PhenixID
Identity Manager
The given tool to delegate management of user information and permissions directly in your web browser.

PhenixID
Signing Services
Electronic signing of PDF documents and transactions from anywhere availible both with API and Web Workflow versions.

PhenixID
Password Self Service
By offering different methods to identify the user, the authentication process to prove the user's authenticity is both secure and easy to use. Password reset is available for users via web browser or mobile app.

PhenixID
Identity Provisioning
Automation of the process of creating, updating and deletion of user accounts accros platforms and services on-premises and in the cloud.

Clavister

In

Center

Clavister InCenter enables IT organizations running Clavister firewalls with actionable insights enabling security improvements and business efficiency.


Clavister

In

Center Cloud

Clavister InCenter provides IT organizations running Clavister firewalls with actionable insights, enabling improvements in security and business efficiency.