Join us for this year's Clavister Partner Days in Stockholm!
Clavister team is excited to invite you to our 2023 Partner Days, being held in Stockholm this year, for two days of inspired learning and networking.
The event takes place from:
Wednesday, 4 October at 11:00 to Thursday, 5 October at 15:00
SEE FULL AGENDA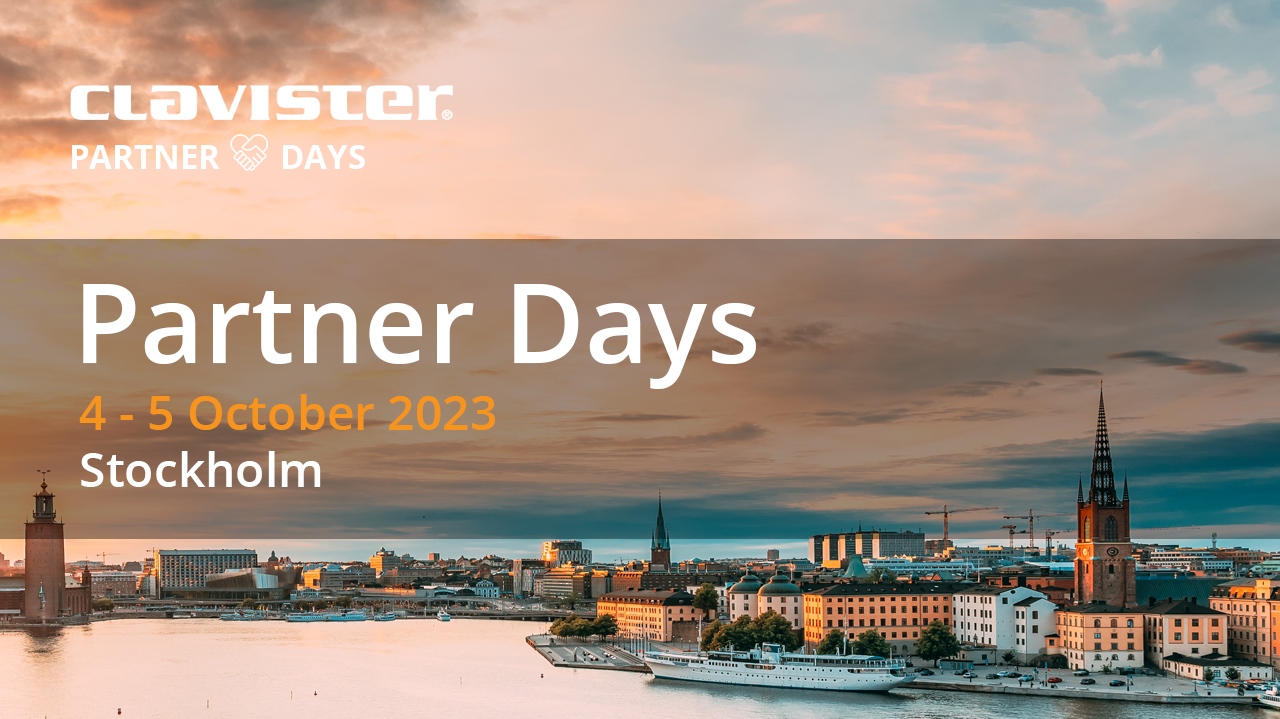 What to expect

Meet your sales/account team, other regional partners and distributors, discuss with product management and get the latest news and updates on the Clavister portfolio.
KEYNOTE SESSIONS
Keynote session on alignment of Clavister's GTM strategy with market drivers at large
GUEST SPEAKER
External analyst presenting insights on cyber security and industry trends
TRADE SHOW
Interactive demo pods for network security, IAM, Clavister AI and Zero Trust
INDUSTRY INSIGHT
Industry perspectives and Clavister offerings for Energy Utilities and Public Sector
SHARING INSIGHTS
Learn from fellow partners about different customer case studies
PRODUCT ROADMAP
Product roadmap presentations and opportunity to give feedback
Siren Hofvander
Speaker, strategist and cyber security expert
Our external keynote speaker this year is Siren Hofvander. She is a cyber security strategist and renowned for hosting sessions on 'security thinking'; how it is applicable at organizational level and how everyone can play their part in improving cyber security.
Nina Olesen
Head of Sector, European Cyber Security Organisation (ECSO)
Nina Olesen is Head of Sector at the European Cyber Security Organisation (ECSO) which she helped establish in 2016 and which is today the unique European public-private organisation focusing on cybersecurity and offering a 360° view on the rapid evolution of the digital environment.
WEDNESDAY

OCT 4

11:00 – 12:30
Registration, Welcome & Lunch

12:30 – 13:00
Clavister Welcome & Keynote

13:00 – 14:00
Guest Speaker: Siren Hofvander

14:00 – 15:00
Latest Innovations in Clavister's Portfolio and Roadmap Update

15:30 – 16:30
Industry Insights: Energy Utilities & Public Sector

16:30 – 18:00
Clavister Tradeshow & Mingle

18:00 – 19:00
free time

19:00 – 23:00
Dinner Event & Partner Awards
THURSDAY

OCT 5

9:00 – 9:30
Making Partners Suceed

9:30 – 10:10
Clavister Support, PS, Marketing – Here for you!

10:45 – 11:30
Guest Speaker: Nina Olesen (ECSO)

11:30 – 12:15
Customer Case Studies

12:15 – 13:00
Lunch time

13:00 – 13:30
PhenixID

13:30 – 14:15
Open Mic

14:15 – 15:00
Security Insights by Clavister CISO
Please note that the event schedule is subject to change.
Discover the Event Location
Münchenbryggeriet I Stockholm




Münchenbryggeriet
Magasinet
Söder Mälarstrand 25
118 25 Stockholm
www.munchenbryggeriet.se
GOOGLE MAPS
See you soon at our Clavister Partner Days 2023 in Stockholm!
If you have any questions, please reach out to your sales representative.