Manage all your Clavister NetWall firewalls centrally
Clavister InControl is our premium centralized management system built to handle thousands of Clavister Next-Generation Firewalls in large networks.

Built-in AAA (Authentication, Authorization and Accounting) functionality alongside delegated management provide a secure, multi-user environment with multi-tenancy support.

With integrated support for reporting, version control, zero touch provisioning and real-time monitoring makes Clavister InControl centralized management system the ideal solution for large enterprises and service providers.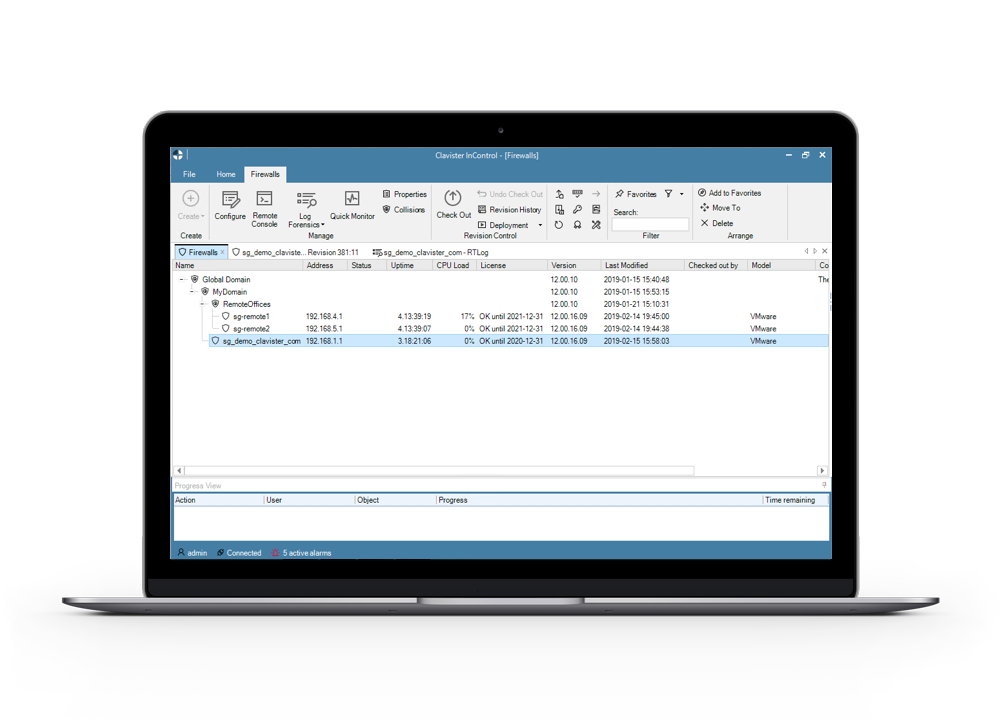 ZERO-TOUCH
Auto Provisioning of the Secure Home Office
Clavister InControl includes Zero-Touch Provisioning enabling IT administrators and Managed Security Service Providers to reduce time to deployment new SD-WAN sites to minutes. Watch this video to learn how IT Manager Anna manages to rapidly roll out a secure remote working infrastructure – without ever touching the devices.
READ MORE

Provides an easy-to-use, centralized and scalable security management solution for enterprise customers with large installations.
KEEP IT UNDER CONTROL
Clavister InControl enables administrators to have full control of all aspects of what is deployed, where and by whom.
REPORTING
The Report subsystem builds on the powerful Log Analyzer, the Log Query Language (LQL) and the cube support.
REAL-TIME VIEW
Clavister InControl offer the ability to create their own real-time monitor dashboards, including gauges and aggregated data controls.
ANALYZE & IMPROVE
Using the data collected administrators can analyze, display, filter and query data using the Log Query Language (LQL).
Integrate – API/SDK
Clavister InControl offers an extensive API and related Software Development Kit (SDK) that enables you to develop custom solutions or deep integration with backend systems and third-party products. This makes it easy to align network security with your IT/IS processes. Clavister InControl API/SDK has full access to all Clavister InControl Server functionalities, which enables you to build feature-rich solutions. The SDK supports both Windows Communication Foundation (WCF) and SOAP, and comes with developer documentation and code examples to accelerate your development
Secure communication between Clavister InControl and 3rd party systems and Clavister security devices.
Software Development Kit to help get started and reduce development lead time.
Overall improved security and reduced costs thanks to simple integration with other provisioning tools.
Standardized SOAP/WCF API.
Watch the Clavister TechTalk Webinar!
This will require a first time login to GoToWebinar