Cyber Threats Don't Differentiate on Business Size
Cyber security is no one size fits all. While Small and Medium Businesses (SMBs) benefit from being nimble and their ability to move fast; limited budget and lack of in-house cyber security expertise often challenge them to keep on top of the ever-evolving threat landscape.
Business Challenge
Shift From Reactive to Proactive Approach
Cyber-attacks affect all businesses, but the impact could be even greater on SMBs due to lack of mitigation and response support available. Financial damages can challenge business survival. Having siloed preventative controls are no longer enough and SMBs need to re-assess their security plan and take a more proactive approach. Clavister works with specialised Managed Service Providers (MSPs) and channel partners that provide end-to-end security solutions and a single pane-of-glass to SMB customers.
Clavister for SMBs
Clavister products cover network security, secure SD-WAN and Identity & Access Management (IAM).
NO COMPROMISES
Feature rich solutions like higher-end counterparts rather than scaled down versions
ADVANCED SECURITY
Layered security combining network security Zero Trust Network Access (ZTNA) using MFA/Passwordless
TRUSTED PARTNERS
An extensive ecosystem of European partners with local support and flexible subscription options
Market Survey:
Balancing between on-premise and cloud
36% of SMBs are already adopting cloud-delivered cyber security while 33% still prefer on-premise models. In reality, IT environments are hyrid and will remain so in the short-mid term and therefore, cyber security support needs to reflect the same.
GET THE REPORT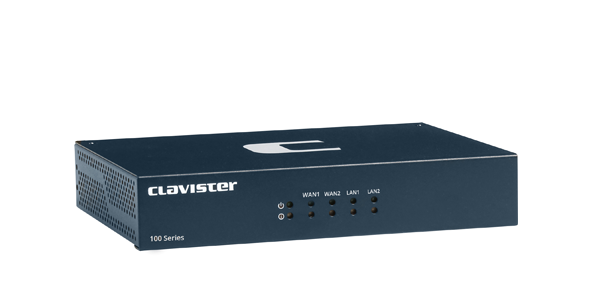 Featured Products
SMB & Branch-Office Firewalls
NetWall firewalls are designed to protect against threats and attacks across multiple vectors, such as malware, ransomware, DDoS and phishing. In addition, Clavister firewalls provide advanced features for intrusion prevention and detection, enterprise-grade encryption and secure remote access, making them suitable for protecting against an ever-evolving threat landscape.

Clavister's NetWall 100 & 300 Series offers powerful and cost-optimized Next-Generation Firewalls (NGFW) for SMBs, ideal for home or distributed office deployments designed to prevent cyber-attacks, reduce complexity, and lower your costs.
LEARN MORE
Solutions for SMBs
Different industry use-cases that Clavister provides cyber security solutions for:
Network Security
A broad range of NGFW products designed to provide security coverage for all your users and devices including cloud applications, hybrid workers and BYOD devices. Putting you in control at all times.
Identity & Access Management
Manage and secure your identities in a simple way using MFA and Passwordless and you will never go back. Adopt zero-trust identity management as we move towards hyrbid working model.

Clavister is headquartered in Sweden and we comply with Swedish and European laws to adhere to a strict 'No Backdoors' policy. All Clavister products and solutions are developed from the ground-up in Europe with in-house technology or fully secure external sources.