Actionable Traffic Analytics Instantly
HOLISTIC VIEW
IT managers will have an holistic view of threats and traffic with drill down capabilities and will decrease TCO compared to 3rd party log managements systems.
VERIFYING CONFIGURATION
Clavister InCenter Cloud enables IT organizations and their executives to become pro-active and see how well their security configuration is protecting their business.
INSTANT INSIGHTS
Clavister InCenter Cloud is easy to implement and scalable to ensure fast insights for solutions of any size and requires minimum time to get started.
IMPROVED SECURITY
Clavister InCenter Cloud enables IT managers to improve security and make organizations more efficient utilizing advanced machine learning recommendations.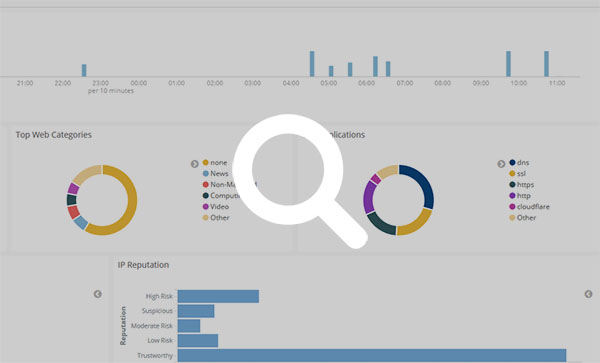 Download the InCenter Cloud Product Sheet
Essentials – Dashboards
OVERVIEW

Cyber Security ScoreCard
NETWORK ACTIVITY

Statistics on your own traffic
BLOCKED ACTIVITY
Analyze volume and reason for blocked traffic
THREATS

Summary of IDS, Botnet and Port Scanner statistics
VPN TRAFFIC VOLUME
Graphical overview of VPN paths setup with traffic columes and next step quality
HEALTH

Status of the firewall products resource usage
Advanced – Dashboards
SECURITY OPERATIONS CENTRE

Events dashboard with notifications of machine learning or KPI
MACHINE LEARNING

Anomaly detection and behavior deviation reporting
Common Features
SCHEDULED REPORTING, E-MAIL DELIVERY, EXPORT TO PDF
RAW SECURITY
MACHINE LEARNING
Clavister's Next-Generation Firewall Products