THE PROBLEM
Hackers, viruses, ransomware, data theft, industrial espionage and even government sponsored attacks. The list of cyber threats that could put your business at risk goes on and on. The World Economic Forum has declared Cyberattacks the 3rd most likely to occur and 6th most impactful. But the challenge isn't just to make the network secure but also to make it efficient and productive at the same time.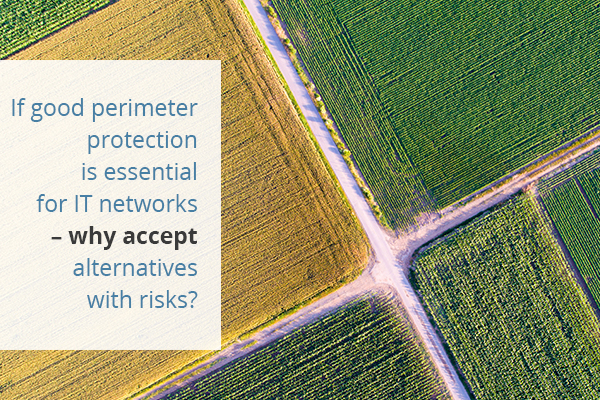 SOLVING THE PROBLEM
What is needed is a firewall that monitors and controls incoming and outgoing network traffic based on intelligent security rules. For ideal protection it's critical to be very specific of what type of traffic to allow and block everything else. While the internet border to your network is the obvious place for a firewall, deployment within the corporate network can increase the security levels for specific segments as well.

Clavister Next-Generation Firewalls are Made in Sweden and based on a proprietary operating system. Because of this they are guaranteed without backdoors and not vulnerable to the flaws periodically found in operating systems like Windows and Linux. The firewalls include a range of networking services including network address translation, dynamic address allocation and user-awareness through integration with Microsoft Active Directory.
TRANSPARENT & INTELLIGENT
A firewall that is transparent but yet applies intelligent security rules
USER-AWARE RULES
Has user-aware rules that can update without traffic disruption
VIRTUAL & APPLIANCE
Runs on right-sized appliances or virtualised on COTS
SECURE OS
Is build with a secure operating system not vulnerable to common flaws in open source
THE RESULT
With both virtualised and appliance based versions, Clavister provides peace of mind for every corner of your network. All enterprise class versions include options to run in high-availability mode to secure business continuity even during maintenance periods.
CENTRALLY CONTROLLABLE
Centrally controllable through orchestration
#NoBackDoors
Made by Sweden – Clavister guarantees #NoBackDoors
FLEXIBLE CONFIGURATION
Perimeter protection with flexible rule configuration
Solutions & Customers
The following solutions and customers benefit from this use-case:
SOLUTION
SGi/Gi Firewalling – Core Security
Protecting the core network for mobile and fixed service providers
SOLUTION
Protection of Legacy Systems
Protecting older un-updatable but critical systems from vulnerabilities
SUCCESS STORY
CASPUR
Clavister provides security for super-computing facility