Next-Generation
Endpoint Security Client
More than 300,000 new malwares are created each and every day, designed to attack your endpoint devices to
steal your data, create havoc in your network or encrypt and ransom your valuable information. New Zero-Day attacks and evasive malware makes its way through traditional antivirus products based on signatures for known attacks which render these protection tools almost useless. Advanced Threat Protection (ATP) that stops both known malware using traditional signatures, and Artificial Intelligence that blocks Zero-Day attacks based on behaviour analysis, must be deployed at your endpoint devices. Naturally it also should be easy to manage as well as perform without slowing down your devices and network.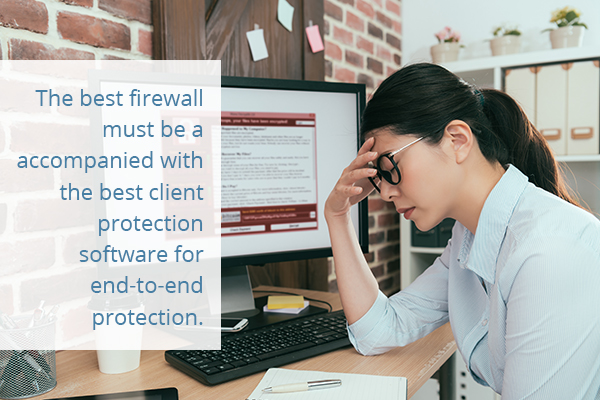 A few things we're great at
Zero-Day Defence
Signature based protection combined with Artificial Intelligence protects your endpoints against known and unknown malware.
Cloud Based Management
Cloud Based Management ensures that deploying and managing all your endpoint devices—no matter how many or where in the world they are—is easy and efficient.
Data Protection
Built-in data leakage prevention (DLP) ensures GDPR policy compliance and that sensitive data doesn't get compromised.
Stop Ransomware
Ransomware is one of the most common and costly malwares affecting organizations of all sizes.
The Clavister Endpoint Security Client stops ransomwares from encrypting your valuable files using new and highly sophisticated technologies, including 4th Generation Artificial Intelligence.
FEATURE HIGHLIGHTS:
Artificial Intelligence
4th Generation Artificial Intelligence that blocks ransomware based on behavior
Updated Signatures
Signature-based protection that protects against known ransomwares – updated continuesly
Central Management
Centralized and advanced tracking of outbreaks within your organization
Remediation
Quarantine infected hosts and force immediate updates of all your endpoint devices
Advanced Zero-Day Protection
The unprecedented rise of new threats has deemed traditional security mechanisms both ineffective and unreliable in providing adequate defense.
Today's pervasive, Zero-Day threats have increased in complexity, making prevention, detection, and remediation difficult for traditional security software.

Clavister Endpoint Security Client, powered by Bitdefender, features pro-active detection technology, including 4th Generation Artificial Intelligence that monitors the behavior of the malwares in addition to classic AV engine techniques.

During the Wannacry malware outbreak, most of the antivirus softwares on the market failed to block it at the point of outbreak. Clavister proactively blocked Wannacry immediately and without the need for specific signatures thanks to this technology.
THE RESULT
Better protection and lower risk of getting exposed to malware due to clients with out-of-date signature-sets.