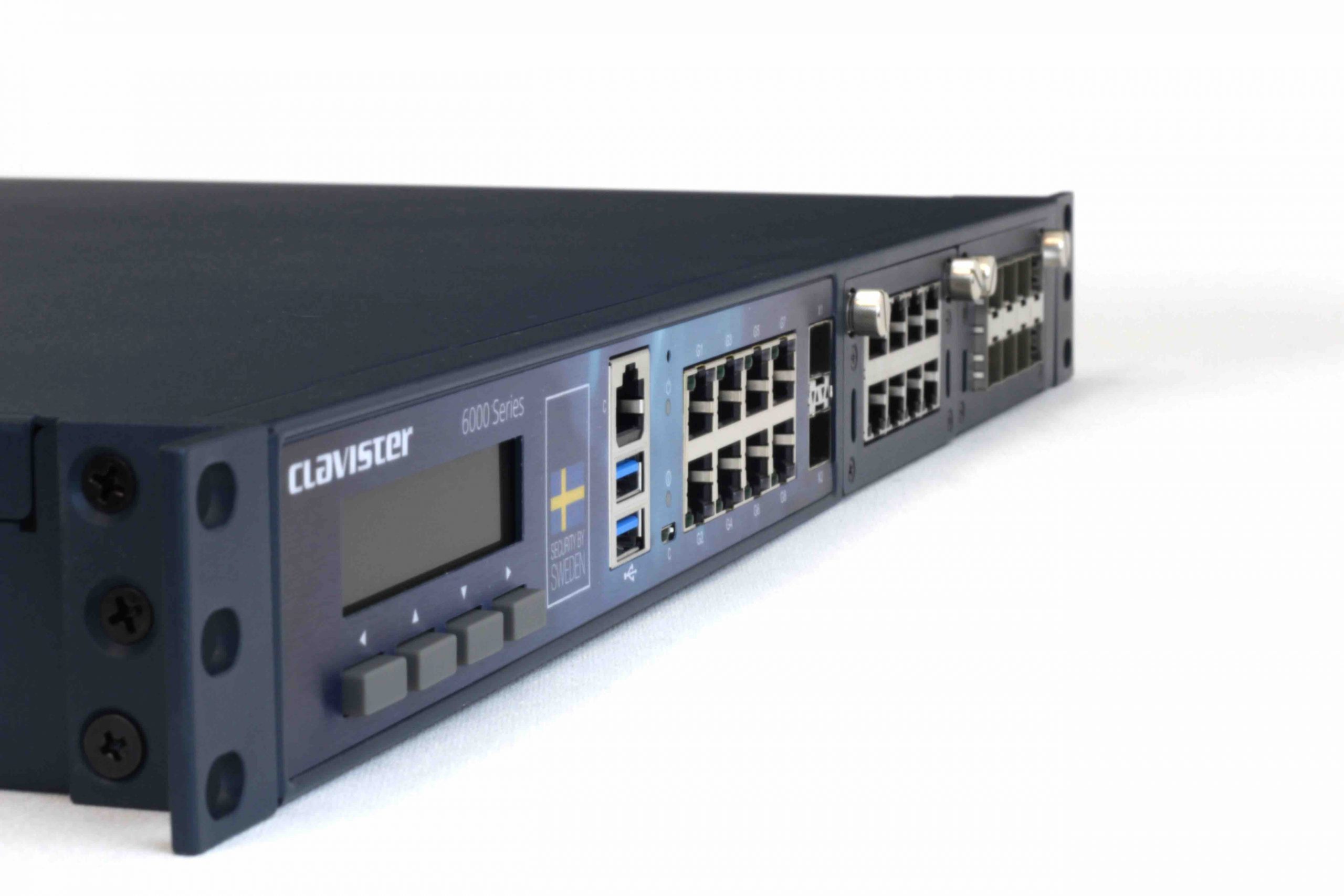 NetShield 6000 Series
High-performance Service-Based Firewall for data center protection and ideal for Service Providers with 4G/5G Networks.

• Up to 80 Gbps firewall performance
• Up to 30 Gbps IPsec performance
• Integrated BGP router, replacing expensive extra router equipment
• SSL inspection allowing IDS / IPS for server traffic
• Dual power supply support
• Swedish Innovation – #NoBackDoors
DOWNLOAD DATASHEET
Rack-mounted models
Compare the different NetShield platforms and choose the model that best fits your specific needs:

 
NetShield 6200
NetShield 6600
Firewall performance
20 Gbps
80 Gbps *
VPN Performance
10 Gbps
30 Gbps **
Concurrent connections
5,000,000
20,000,000
Concurrent IKE Tunnels
5,000
10,000
Concurrent SSL Tunnels
2,500
5,000
Ethernet interfaces
8x 1GbE (RJ45), 2x 10GbE (SFP+)
Expansion Slot
2
Compatible Modules
2x 40GbE (QSFP+), 4x 10GbE (SFP+), 4x 10GbE (SFP+) incl. IPsec Acceleration
High Availability Support
Yes
Clavister OS
Clavister cOS Stream
 
 
Hardware Specification
Form-Factor
1U 19" (rack mount)
Power Supply
Redundant 100-240VAC. 50-60 Hz or Redundant 48VDC
Dimensions (height x width x depth)
44 mm x 438 mm x 508 mm (1.73 in x 17.24 in x 20.00 in)
* Requires optional CM-NET420 2x 40GbE (QSFP+) module
** Requires optional CM-SEC144 2x 10GbE (SFP+) including IPsec Acceleration
Interface Modules
The Clavister interface modules enables you to customize port configuration of Clavister appliances with interface module slots. This gives you greater flexibility but also ensures a longer lifecycle and better compliance with your current and changing needs without having to replace the entire product.
SKU
Description
cOS Stream Firmware
CM-NET143
4x 10 GbE SFP+ (No transceivers included) Module
cOS Stream 3.80
CM-SEC144
QAT + 4x 10 GbE SFP+ (No transceivers included) Module, including IPsec Acceleration
cOS Stream 3.80
CM-NET420
2 x 40 GbE QSFP (No transceivers included)
cOS Stream 3.80


SFP/SFP+ Transceivers
To ensure interoperability and best possible function with your Clavister NetShield, you should only use Clavister SFP/SFP+ Transceivers.
The following Clavister SFP/SFP+ Transceivers are available:
| SKU | Description |
| --- | --- |
| APP-SFP-1G-TX | SFP Gigabit Transceiver, 1000BASE-T, RJ45 |
| APP-SFP-10G-SR | SFP+ 10 Gigabit Transceiver, 10GBASE-SR/SW, 300m, 850nm, multi-mode |
| APP-SFP-1G-LX10 | SFP Gigabit Transceiver, 1000BASE-LX, 10 km, 1310nm, single-mode |
| APP-SFP-1G-LX40 | SFP Gigabit Transceiver, 1000BASE-LX, 40 km, 1550nm, single-mode |
| APP-SFP-1G-LX80 | SFP Gigabit Transceiver, 1000BASE-LX, 80 km, 1550nm, single-mode |