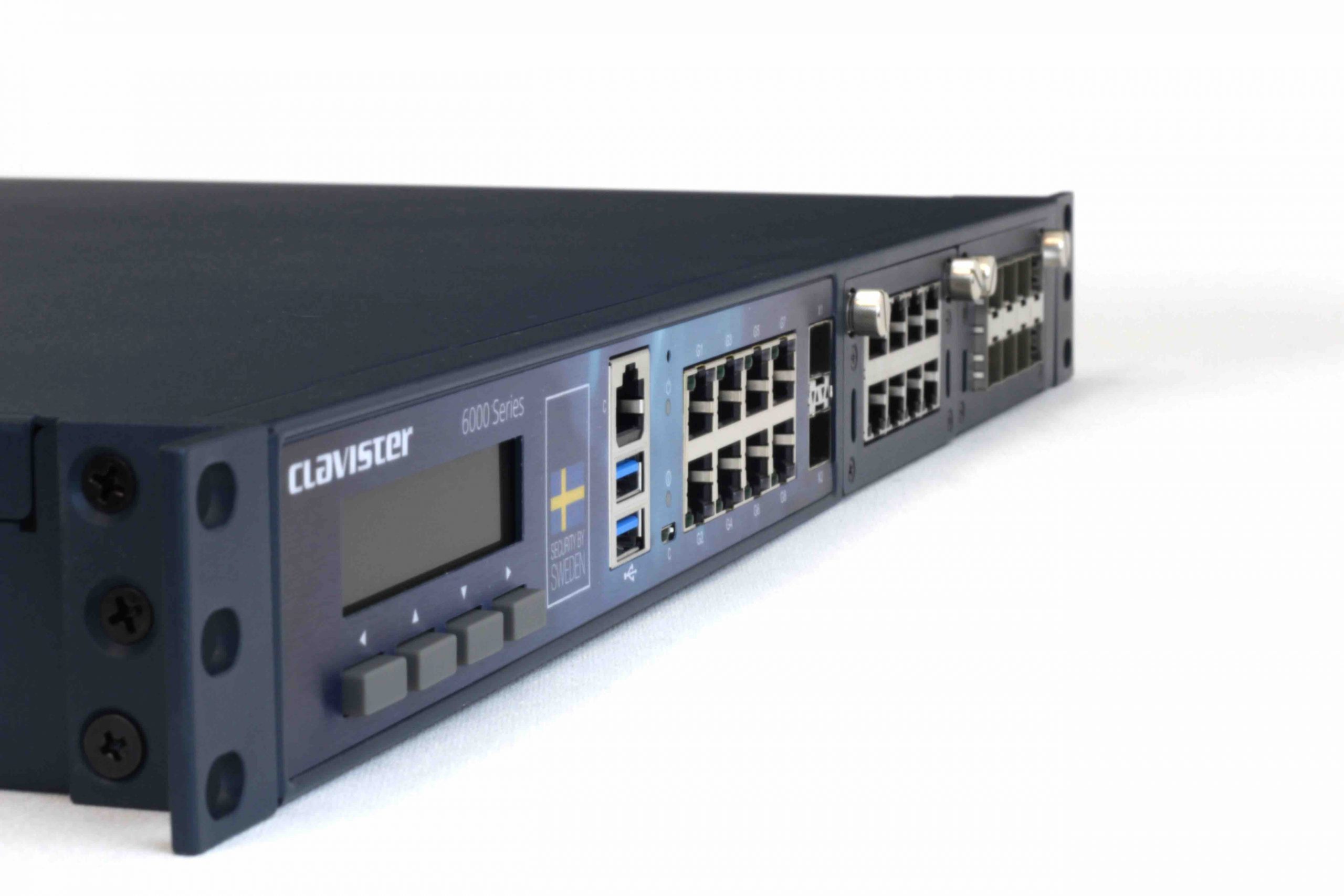 NetWall 6000 Series
Clavister NetWall 6000 is a series of large Next-Generation Firewalls (NGFWs) that offer high performance, scalability and flexibility of deployment – perfect combination when you are looking to secure datacentres, service providers and large enterprises. NetWall 6000 series comes with secure SD-WAN features, to cover distributed and hybrid networks and is capable of serving a wide variety of use cases against advanced cyber threats. It also includes Clavister OneConnect SSL VPN to support secure remote working with Windows, Android, macOS and iOS clients.

• Up to 50 Gbps firewall performance
• Up to 15 Gbps IPsec performance
• Up to two free expansion modules slots
• RJ45 & micro-USB console
• Dual power supply support
• Ideal branch office secure SD-WAN thin or thick edge node
DOWNLOAD DATASHEET
NetWall 6000 Series – Models
Compare the different modules to select the one that meets your specific requirements:
 
NetWall 6200
NetWall 6600
 
Feature
 
 
Firewall performance
20 Gbps
50 Gbps
VPN Performance (Gbps)
1 Gbps/5 Gbps
1 Gbps/15 Gbps
Concurrent connections
5,000,000
8,000,000
Concurrent VPN Tunnels (IPsec)
2,500
5,000
Ethernet interfaces

8x 1 GbE (RJ45), 2x 10 GbE (SFP+)

Expansion Slot

2

Compatible Modules

8 x 1GbE (RJ45, RJ45 PoE+ and SFP), 4 x 10GbE (SFP+), 4 x 10GbE (SFP+) + IPsec, 2x 40 GbE (QSFP)

Virtual Interfaces (IEEE 802.1q/802.1ad)
4,096
4,096
Virtual Routers
250
500
High Availability Support

Yes

Clavister OS

Clavister NetWall cOS Core

 
Hardware Specifications
Form-Factor

1U 19"

Power-supply

Redundant & Hot-Swappable 100-240VAC, 50-60 Hz

 
Recommended Use-Cases
Typical environments

Datacenters, headquarters (HQ) and distributed office deployments
Take Clavister NetWall

for a testdrive!
Try out the web interface of a Clavister NetWall or download a free 30-day trial of our virtual version.
FREE 30-DAY TRIAL
ONLINE DEMO
Clavister Next-Generation Firewalls
Broad range of firewalls with advanced security features, easy deployment and centralised management
Firwall Appliances
Clavister NGFWs, NetWall and NetShield series deliver enhanced network visibility, protection and performance.
Virtual Models
Clavister has been a pioneer in virtual products since 2008. Find out how virtual NGFWs might be the answer for your needs.
NetWall Security Subscriptions
Clavister's services and knowledge products help you realize the full potential of your newly secured network.
Centralised Security Management
Keep it under control – manage all your configurations and extract security analytics from one central platform

Clavister
InCenter
Clavister InCenter enables IT organizations running Clavister firewalls with actionable insights, in an easily extractable format to enable security improvements and business efficiency.
Read more

Clavister
InControl
Clavister InControl is our premium centralised management system built to handle thousands of Clavister Next-Generation Firewalls in large networks. Includes zero-touch provisioning.
Read more