THE PROBLEM
It's common that network links reach their limit and become congested due to the way applications are designed to utilize bandwidth availability. Typically this occurs with file-sharing / syncing or through usage of other applications that create multiple TCP sessions in parallel, aiming for maximum bandwidth utilization. The result is that capacity is unable to be allocated fairly to other users, causing service degradation and typically impacting vulnerable applications like VoIP and Conferencing Apps. The result is poor conversation quality and network disconnection hurting productivity.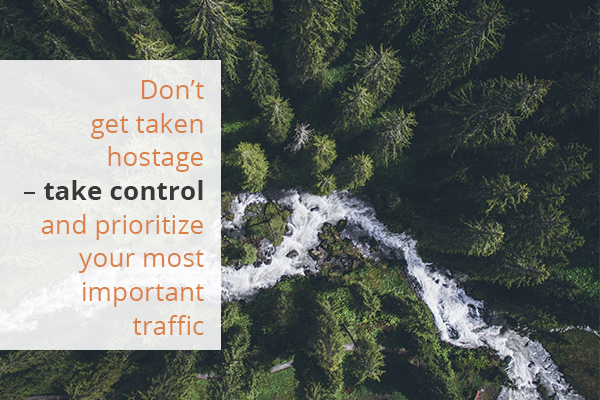 SOLVING THE PROBLEM
At the border of the network the Next-Generation Firewall acts as a policy gatekeeper to treat different types of traffic—or traffic from different users—with different priority. Service level agreements can be set up to guarantee a portion of the available bandwidth to specific applications or users as well.
CONFIGURABLE
Configurable policies based on users, IP(-range), or in communication with Applications Visibility on specific Apps
SUPPORTS POLICIES
It supports policies within policies to first define a limitation for a group, and then for specific users or apps within the group
FAIR SHAPING
Fair shaping supported to equally spread resources over users
INTEGRATED TRAFFIC
Integrated traffic shaping capabilities
THE RESULTS
Implementing smart traffic optimisation and prioritisation has a significant impact on the traffic when capacity limits are reached. Voice and video conferencing calls will be higher quality and have less interruptions—while file syncing applications like Dropbox will just take a second or so longer to sync the files in the background—but will continue to operate as normal.
PRIORITIZE CRITICAL TRAFFIC
Help prioritize the most business critical traffic
KEEP PRODUCTIVITY
Avoid having productivity being affected from network overload
MANAGE RESOURCES
Tacticly manage resource usage by specific groups
Solutions & Customers
The following solutions and customers benefit from this use-case:
SOLUTION
Secure SD-WAN
Optimise business connectivity and security across multi-site locations
SOLUTION
Business Traffic Optimisation
Secure corporate resource usage and manage employee time
SOLUTION
Regus
Workplace-as-a-Service company
connecting 3 000 centers in 100 countries