THE PROBLEM
Distributed Denial of Services (DDoS) attacks are one of the easiest and most accessible ways for an entry level hacker to cause trouble. Using one of the many pre-made tools available it's easy to mount an assault from hundreds or even thousands of computers, overwhelming just about any system or firewall, causing them to go off-line or operate at a crawl. It's not just web-shops falling victim but whole enterprises with carrier grade security systems becoming subject of ransom schemes. Most scenarios end up with companies paying the ransom fee that is demanded to get rid of the threat. Far from optimal but still a lot cheaper than days of downtime causing irreputable damage to the brand name.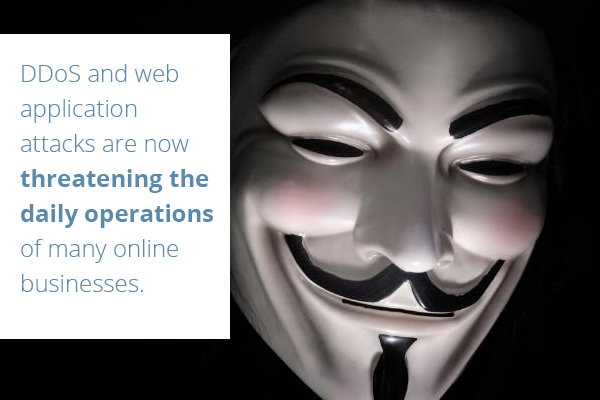 SOLVING THE PROBLEM
Clavister provides protection tailored for your business. Creating a defence that doesn't just stop the traffic but remains evasive and flexible. Even during a massive DoS attack that shuts everything down, the Clavister Next Generation Firewall makes sure the internal network and backup internet links remain operational. DoS attacks to server services behind the firewall can be mitigated through traffic management and rate limiting.
SCAN TRAFFIC IN REAL TIME
Integrated Intrusion Detection/Prevention System scans traffic in real time to search for known malware
MITIGATION THROUGH SHAPING
DDoS detection and overload mitigation through shaping policies helps recover from an attack quickly
PRO-ACTIVE GEO-FENCING
An Integrated GeoIP database allows for pro-active geo-fencing – blocking traffic to and from specific geographies.
THE RESULT
The Clavister Next Generation Firewall not only enables a multi-set of strategies to mitigate and reduce the impact of an DoS attack on a server hosted behind the firewall. The solution also secures that internal business is unaffected during a DoS attack and your employees can focus on business continuity.
MITIGATE ATTACKS
Multi-set of strategies to prevent, detect and mitigate attacks
TRAFFIC SHAPING
Advanced traffic shaping to mitigate DDoS overload
BEST OF BREED
Best of breed signature library for known attack detection
Solutions & Customers
The following solutions and customers benefit from this use-case:
SOLUTION
Secure SD-WAN
Optimise business connectivity and security across multi-site locations
SOLUTION
SGi/Gi Firewalling – Core Security
Protecting the core network for mobile and fixed service providers
REFERENCE CASE
Konika Minolta
Virtual secure cells protecting private cloud infrastructure for small businesses