THE PROBLEM
How we work has changed dramatically: we're now more mobile and global; we use BYOD, we access our workflow across complex and unsecured connections such as WiFi hotspots and other access points.

Regardless of location or connection, an easy to manage and configure secure remote working solution is a key driver of organizational success and data protection. Nowadays a diverse number of different devices need to be supported.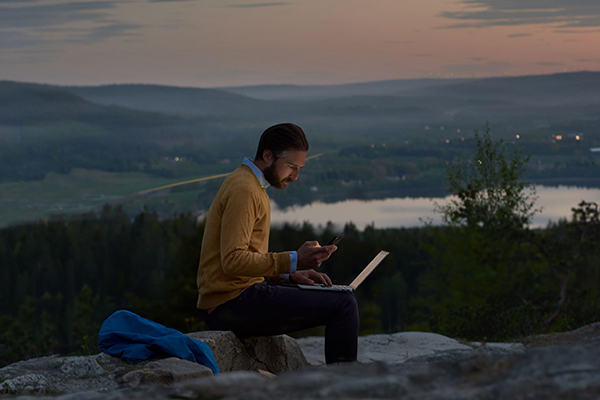 SOLVING THE PROBLEM
A flexible remote access solution supports a range of technologies including IPsec, SSL or L2TP enabling secure connectivity even in the most restricted remote environments. Compatibility with VPN clients with support for Windows, Mac and mobile operating systems allows all devices to get connected and purpose built Clavister SSL VPN client provide easy of use for both the end user and IT administrator.
Work remotely
Clavister solutions enable remote working with native OS client support
Quick set-up
Quick set-up on any and all your devices
On any software
Supports for both build in VPN clients in Windows and Mac as well as dedicated VPN client software
Supports various methods
Support various methods including IPsec, SSL, L2TP or PPTP
THE RESULT
Clavister remote access VPN solutions are quick to set-up on any and all of your devices without the need for IT administrators. You will have the confidence to know that all data is being shared confidentially and without malicious code inserted as it passes through your network. Clavister's solution does this all without latency to allow your network (and employees) to perform at their best and works both in appliance and virtualised installations.
WORK EFFICIENTLY
Empower employees to work
efficiency from anywhere
PEACE OF MIND
Have full visibility and peace
of mind on secure connectivity
FEEL SECURE
Benefit from efficiency with remote working capabilities while feeling secure around data protection
Solutions & Customers
The following solutions and customers benefit from this use-case:
SOLUTION
Secure SD-WAN
Optimise business connectivity and security across multi-site locations
SOLUTION
Empower Remote Working
Enable remote office access securely from anywhere and behind anything