THE PROBLEM
Every IT infrastructure has components that are critical and need a setup to provide redundancy and scalability. Both to guarantee service uptime when something happens to one of the servers unexpectedly, but also to enable proactive maintenance in an easy way. Redundancy can be built into the application layer or be setup with DNS round-robin, but this adds complexity and does not always provide control to the service owner.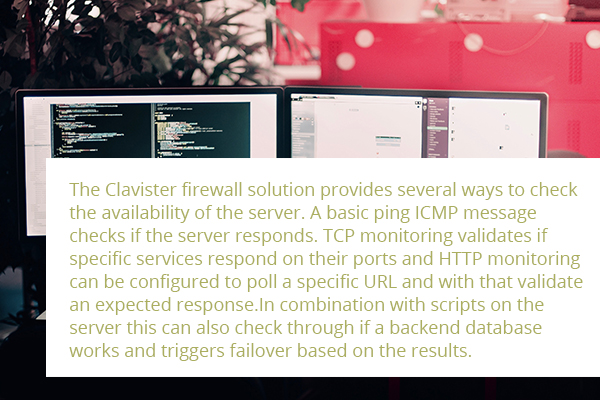 SOLVING THE PROBLEM
Built into the firewall that protects the hosted service is a server load balancing function can provide high availability with control. Without rewriting packets contents the solution can load balance protocol traffic including HTTP(S), DNS and LDAP and can utilize connection-rate and resource-usage based strategies. It can receive information through an API to dynamically change ratio of load distribution to the servers so that this can be decided by 3rd party process externally. This could be, mail queue, disk space, CPU usage etc.
Stickiness
User and session stickiness supported
Reduce network equipment
Consolidating network functions and reducing network equipment
When implementing a voice messaging service and voice box technology that collates almost a billion messages every day, this German supplier of voice mail services needed to find an efficient and reliable way to create server load balancing that made sense cost wise as well as with their resources. They turned to Clavister and used their powerful solution to get the job done.
Using the built in server load balancing functionality in Clavister NetWall
READ MORE ABOUT CLAVISTER NETWALL
THE RESULT
With an integrated Server Load Balancing function the IT administrator saves on specialized solutions to achieve their high availability requirements. It also eases their work to enable proactive maintenance during normal hours and enables for cost efficient scaling of the service infrastructure.
Products
The following Clavister products are capable of providing this use case.
Solutions & Customers
The following solutions and customers benefit from this use-case:
SOLUTION
Pro-active Maintenance
Enabling efficient web-server farm maintenance during office hours
SOLUTION
LDAP Directory Routing
Enablign high availibility for a voicemail system lookup into LDAP