Clavister Announces new Clavister EasyAccess Integration with Yubico's YubiKey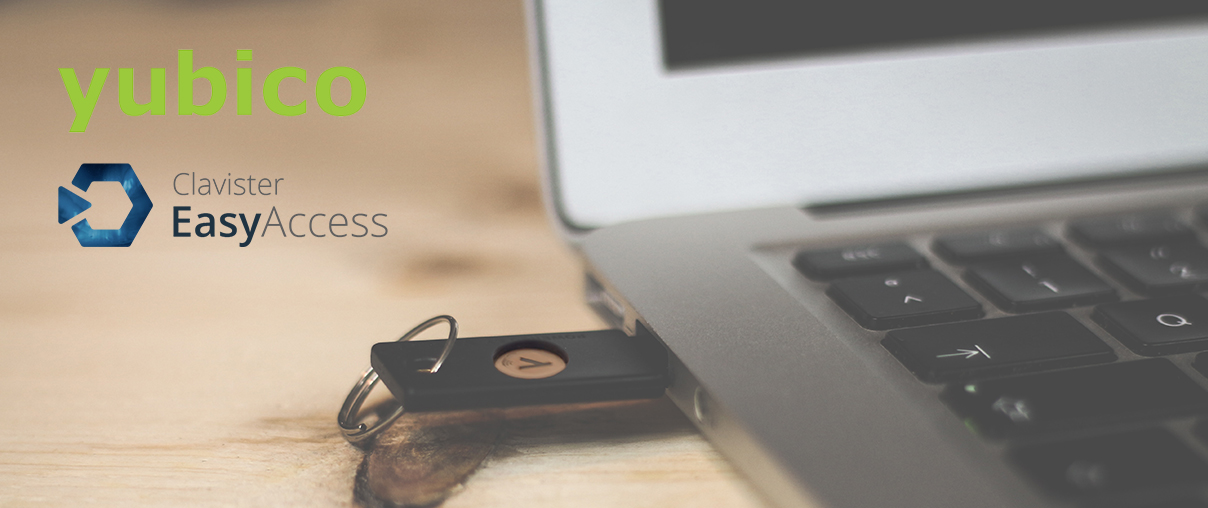 Örnsköldsvik, Sweden, 7 October 2019. Clavister, a leader in cybersecurity solutions, announces advanced account security features within its new Clavister EasyAccess 3.0—an Identity Access Management solution. Clavister EasyAccess 3.0 now includes support for the YubiKey, a security key that offers strong two-factor authentication (2FA) for all user accounts.
This joint solution is a verified integration in Yubico's 'Works with YubiKey' program and offers Clavister EasyAccess users an additional authentication option — alongside the Clavister EasyAccess smartphone-based authenticator — for the highest levels of account security.
Identity theft and impersonations are big risks to data security, and seriously harm businesses that are affected. By combining strong identity and access management with Clavister EasyAccess and hardware-based 2FA with the YubiKey, users have a simple and effective solution to prevent account takeovers.
Clavister EasyAccess supports HOTP, and enables customers to leverage hardware-based YubiKey 2FA with just a touch—four times faster than manually typing in codes. The solution also offers plug and play compatibility, with no customization needed.
"It's very exciting to have an array of MFA devices, based on what's the most intuitive way for a user to start using MFA solutions instead of easily compromised passwords. We're delighted to work with Yubico to achieve this," says Thomas Vasen, Clavister's Commercial Solutions Manager for Clavister EasyAccess products.
Clavister EasyAccess provides comprehensive compatibility with multiple directory services, authentication services, and a wide range of authorization methods customizable per flow and user-group. By using the integrated Clavister InCenter Analytics to oversee the whole network and device security architecture, admins also get full visibility on who received authorization to what and using which methods.
Clavister offers the key benefits of enabling fully customizable login workflows that allow differentiated access privileges based on which authentication method is used. By adhering to a "stronger authentication equals more access" principle, it helps to ensure excellent data security.
"Strong authentication is critical to cybersecurity. That's why we collaborate with companies like Clavister to enable simple, secure hardware-backed authentication for customers," said Alex Yakubov, VP of Partner Marketing at Yubico. "Our partners play a key role in our mission to make secure login easy for everyone. We're happy to welcome Clavister into our Works with YubiKey Program and look forward to working together to provide Clavister customers with expanded options for strong two-factor authentication."
The Clavister and YubiKey joint solution will be previewed at it-sa in Germany October 8-10, 2019. To find out more and to book a demonstration, click here.
https://www.clavister.com/products/easyaccess/yubico/
For more info and media inquiries, contact:
David Stillman
Marketing Manager
david.stillman@clavister.com
About Clavister
Clavister is a leading European cybersecurity vendor with over 20 years of experience. Seated in Sweden, the company has customers—communication service providers, governments, enterprises and managed security service providers (MSSPs)—in more than 150 countries. Clavister provides unique security solutions to protect their digital assets and secure business continuity. The stock, Clavister Holding AB, is listed at NASDAQ First North under short name CLAV.