Clavister tests Scalability and Performance of its Virtual 5G Security Solution in Intel Network Builders Testbed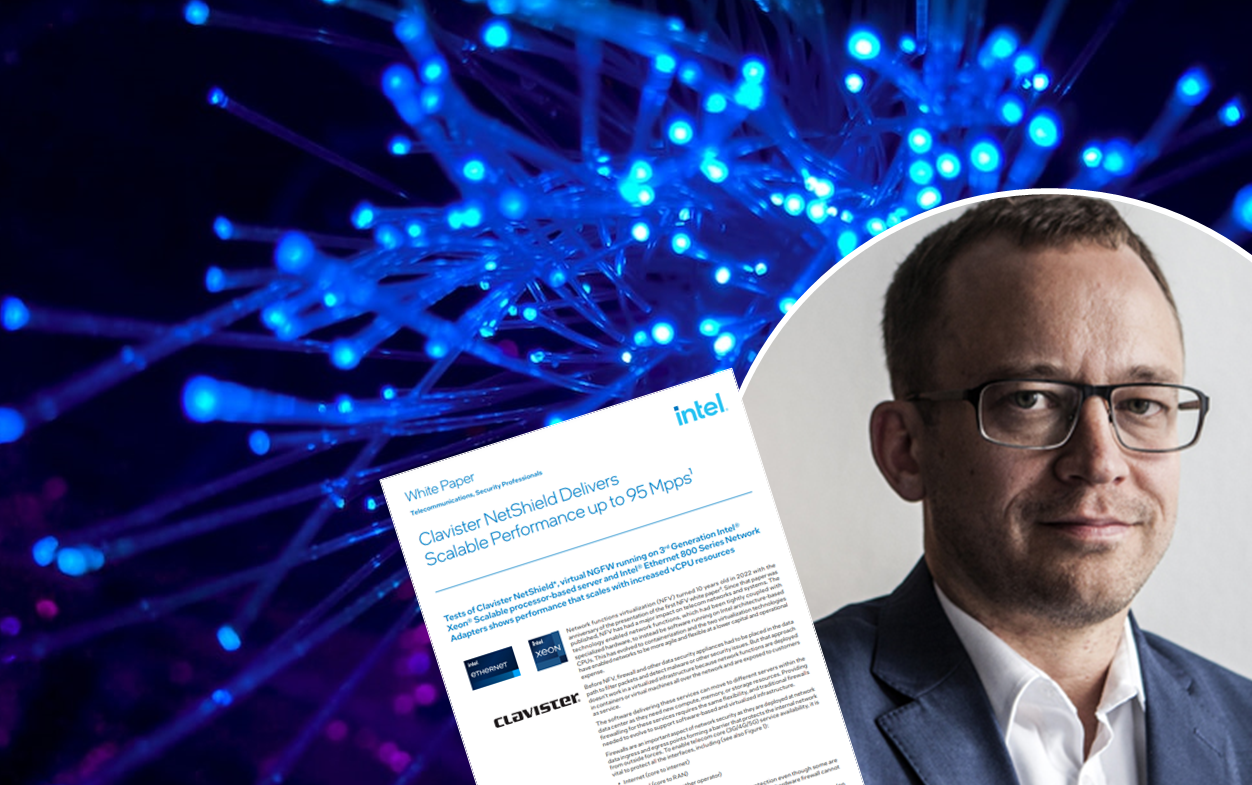 April 26, 2023 – Örnsköldsvik, Sweden – Clavister, a leader in European cybersecurity for mission-critical applications, today announced high performance test results for Clavister NetShield, one of the world's fastest virtualised solutions for securing 5G networks.
Telecom infrastructure is part of critical national infrastructure (CNI) and requires stealth protection against the ever evolving and increasingly complex cyber threats. With telecom infrastructure transitioning from hardware to software and virtualisation, cyber security that forms the barrier to protect telecom networks against cyber threats needs to evolve too. Apart from protecting against the threats, the security solutions used by the telecom providers must also be able to cope with the traffic in terms of both throughput and scalability. This is important to ensure a secure transition from 3G and 4G to 5G.
To explore the performance as well as scalability of Clavister's 5G Security Solution, NetShield, Clavister tested it using the Intel Network Builders Testbed, a cloud-based testbed to assess performance of network workload designed to help the ecosystem achieve faster time to market for their solutions. Based on 3rd Gen Intel Xeon Scalable processors and Intel Ethernet 800 Series Network Adapters, NetShield tests demonstrated ground-breaking linear scalability with a data rate of 95 million packets per second (Mpps) at a line rate of 200 Gbps[1].
This kind of linear scalability is needed to keep cybersecurity unbreakable under massive data loads for 5G Core security. There are various firewall products available in the market today, but Clavister NetShield is the only one to be tested for 5G security.
Clavister NetShield allows telecom operators to deploy a single solution to protect a wide range of network resources, with the capacity to cope with the throughput of multiple network segments. As such, the customers benefit from the scaling efficiency in terms of price efficiency and energy savings. Clavister NetShield is specifically designed for virtual environments with linear scaling and supports hybrid network models and helps MNOs to transition from 3G and 4G to 5G in a secure way.
Clavister is an Intel Network Builders ecosystem partner. Details about the tests and results are available in the paper, 'Clavister NetShield Delivers Scalable Performance up to 95Mpps '.
Clavister works with Communication Service Providers (CSPs) and Network Equipment Providers (NEPs) like Nokia to offer Clavister NetShield as part of managed services or wider telecom security solutions.
"5G presents new challenges as well as opportunities for CSPs. As 5G becomes more prevalent, CSPs must not only rethink their cyber security strategy but also look at cyber security as an opportunity for their enterprise revenue growth. For this, they require a super scalable, high-performing cyber security solution, which is developed based on a new approach to security, one that's cloud-native, 5G-ready and fits CSPs' specific requirements. Clavister NetShield with the underlying super-fast hardware platform from Intel is exactly what's needed here, and I am excited to see such positive test results," said John Vestberg, CEO at Clavister.
For more information about Clavister's 5G security solution, please see: https://www.clavister.com/solutions/5g-security/
[1] The tests were conducted on a simulated 5G network terminating at a virtualized N6-connected firewall.