Clavister Launches Refreshed Website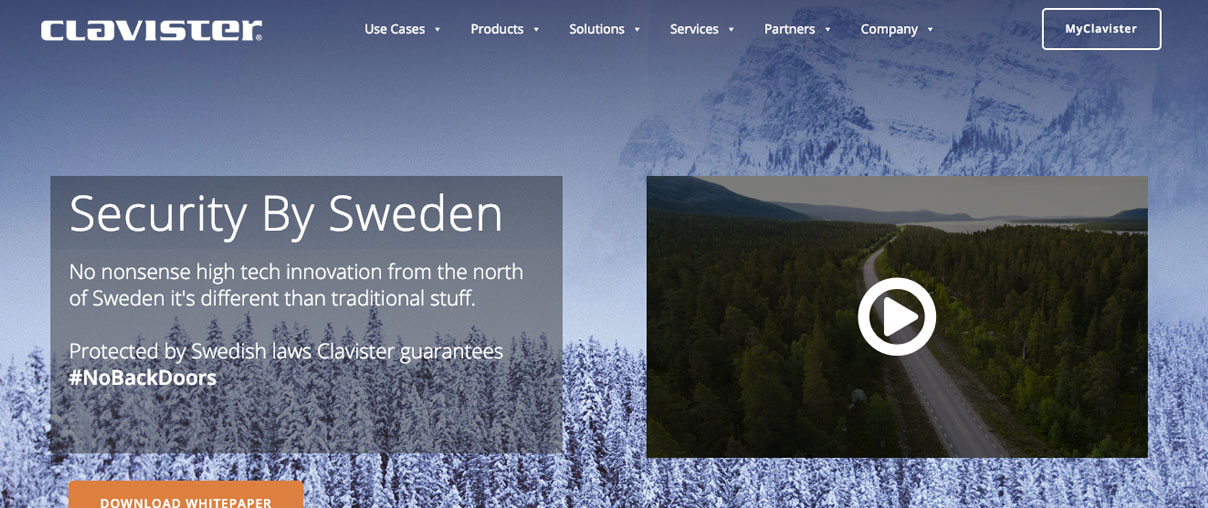 With a new CMS, use case menu and more intuitive navigation, the site will serve as a critical communication tool to drive Clavister's offerings.
Örnsköldsvik, Sweden, January 18, 2019. Clavister, a leader in high-performance cybersecurity solutions, has successfully launched a major refresh to its website, leveraging it as a key component in its communication arsenal.
The project, months in the making, incorporated not only a new look and feel—one that's easy to navigate and modern in aesthetic—but one that conveyed the values and content of the company. Using Nordic images to bolster the company's key messaging programme, Security By Sweden, a programme that declares that Clavister is a better security choice because of its no back doors policy and its adherence to Swedish privacy laws. Additionally, because of the new content that focuses on use cases, the site has successfully implemented navigation that shows customers how these use cases relate to different industries and verticals and how they tie into Clavister products.
"It was a terrific project to drive and get implemented," says Ann Klang, Clavister's new digital marketeer and project lead. "I think that a company like Clavister can really benefit from such an intuitive site that will help customer journeys and show the benefits and power of the products. The website is a living machine and will continuously be updated with new and exciting stuff, so stay tuned!" she states.
Come see our new website here
For more information and media requests, please contact:
Sam Coleman, Director of Marketing and Corporate Communications
About Clavister
Clavister is a leading European cybersecurity vendor with over 20 years of experience. Seated in Sweden, the company has customers —communication service providers, governments, enterprises and managed security service providers (MSSPs)—in more than 150 countries. Clavister provides unique security solutions to protect their digital assets and secure business continuity. The stock, Clavister Holding AB, is listed at NASDAQ First North under shortname CLAV.