Clavister marks 25th anniversary, further building its reputation as a European cybersecurity leader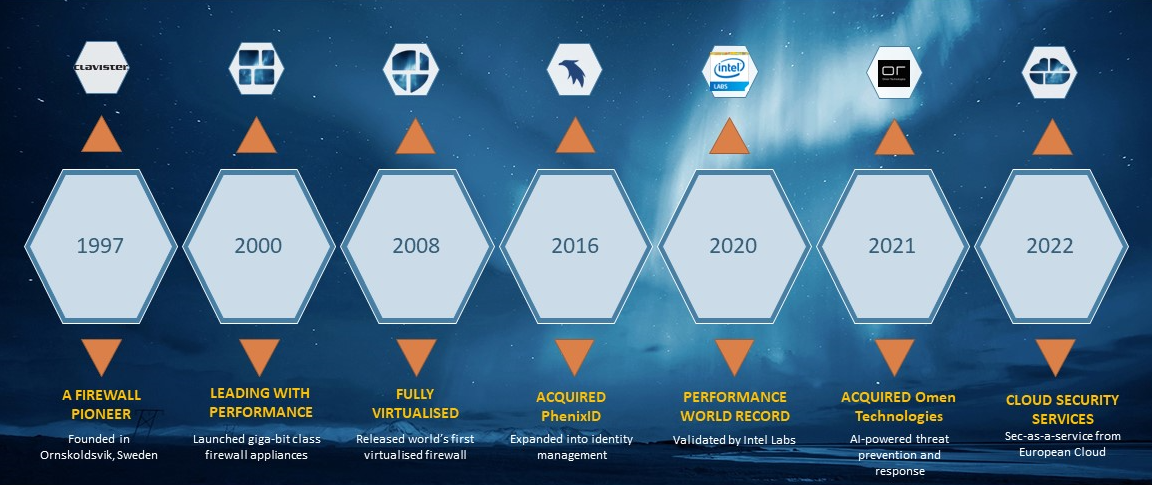 17th October 2022 – Örnsköldsvik, Sweden - Clavister, a leader in high-performance cybersecurity solutions, has today reached the milestone of 25 years of operation. Since 1997, the firm has believed that robust network security is 'everybody's business' and withstood a tumultuous and dynamic period of growth and expansion in the cybersecurity market while transforming its business to fit market needs.  
Since its inception, Clavister has pioneered new and innovative solutions across industries during a period where it has arguably never been more needed.  
All businesses today, irrespective of their size, are subjected to complex and diverse cyber risks than ever before – in a crowded and competitive market where new and fast-moving geopolitical dynamics are constantly emerging, organisations need to protect their networks with solutions from providers they can trust. 
John Vestberg, Clavister's CEO, who co-founded the company in 1997 and was imperative in the process leading up the release of the company's first commercial security product, said: "With customers in over 150 countries, we look forward to empowering and enabling users to secure their operations in an increasingly complex digital environment for businesses. The industry has changed so much in the last 25 years, and we're excited to continue to watch it evolve further." 
The Clavister story so far (and the major technology milestones it coincided with) 
1997:

Founded in

Örnsköldsvik, Sweden

, which is also the year when IBM's Deep Blue became the first supercomputer to beat a reigning world chess champion (Garry Kasparov) in a best-of-six match-up

 

2000:

Sony releases the PlayStation 2, the best-selling games console of all time

 

2008:

Released world's first fully virtualised firewall – the launch of the Apple iPhone 3G also revolutionised the smartphone market

 

2015:

Launched carrier-grade security to help secure 5G mobile networks – Amazon also released Echo and its Alexa ecosystem

 

2020:

Achieved a performance world-record, validated by Intel Labs – Elon Musk's Space X also announces

S

pace it is lacing thousands of Starlink satellites above the earth to provide an internet network to those in remote places

 

2021:

Announced the launch of innovative, zero-day, AI-based threat prevention – Facebook announces its pivot to the metaverse, presenting myriad new cybersecurity concerns

 
In terms of plans for the future, Clavister intends to continue bringing the best of European innovation and service to mission-critical applications. 
Nils Undén, Chief Technology Officer, commented: "As far as the future is concerned, we're just getting started at Clavister. Our plan is to continue innovating for customers and improving our products and services in line with the ever-expanding cybersecurity market. As we now look back on our 25 years, we want to look back on our 50 years in the same way and be equally proud of what we achieved in the industry." 
To learn more about Clavister's history and to get in touch, visit us here.